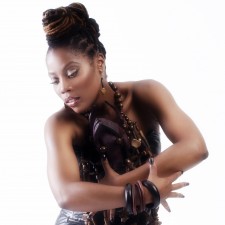 New York, May 10, 2016 (Newswire.com) - Jazz vocalist Pauline Jean is releasing her sophomore album entitled NWAYO on May 26, 2016, marked by an inaugural performance at the Baruch Performing Arts Center's Engelman Recital Hall in New York City.
NWAYO (pronounced n-wah-yo) is a Haitian Creole word that refers to the hardest part of the fruit, or the core, and aptly represents Jean's deep reflection from her most recent body of work. Through compositions and arrangements, Jean passionately reveals her personal narrative and explores the fusion between tradition and modernity by blending jazz with Haitian rhythms and tonalities. The recording showcases a diverse repertoire that is not often captured in a single recording. Jean's velvety contralto creates a powerful sense of emotion and liberation that transcends language barriers.
NWAYO covers a broad spectrum and provides both a cultural and historical perspective. For example, Igbo Landing offers a poignant, soulful tribute to the ancestors of the Middle Passage. By bringing their dark past to light, Jean recounts and pays homage to the Igbo people of Nigeria, who avoided a life of slavery by sacrificing their lives off the coast of St. Simons Island, Georgia in 1803.
Another highlight is the collaboration with award-winning author Edwidge Danticat. For this piece, Jean composed a somber ballad to Danticat's poem Their Blood, Bondye that recounts the blood that flowed and the sacrifices made by their Haitian ancestors.
The album features Axel Laugart (piano), Jonathan Michel (bass), Godwin Louis (alto sax), Jean Caze (trumpet), Obed Calvaire (drums), Markus Schwartz (percussion), and Jean Mary Brignol (percussion). In the coming months, Pauline Jean will be performing various concerts in support of NWAYO, including a special appearance in the Selected Shorts series at New York's Symphony Space on May 11, 2016, where she has been invited to perform her composition to Edwidge Danticat's poem Their Blood, Bondye.
About Pauline Jean: Haitian-American vocalist, composer and arranger, Pauline Jean, is a performing artist whose distinctive contralto has caught the attention of audiences young and old. Jean brings a refreshing sound to today's music, by creating an erudite blend of worldly jazz that draws from her Creole roots and integrates modern and traditional inflections. She has received considerable press from leading media publications, including DownBeat, Jazzwise, All About Jazz, Le Nouvelliste, and many more, and has been featured both as a performer and bandleader at numerous festivals around the globe. Jean has also collaborated with various multidisciplinary artists, including writer Edwidge Danticat, classical pianist Denis Matsuev, the Ivanov Brothers, Emeline Michel, and Wyclef Jean, among others.
About Edwidge Danticat: Celebrated Haitian-American author, Edwidge Danticat, has received numerous international awards and gained widespread recognition for her literary works. Most recently, she was a finalist for the 2016 NAACP Image Award for Outstanding Literary Work for Youth. Some of her many distinctions include an American Book Award (1999), a National Book Critics Circle Award (2007) and a MacArthur "Genius" Fellowship (2009). Danticat holds honorary degrees from both Smith University and Yale University.
Source: ARE GROUP, LLC
Share: